Honda Brake Repair and Replacement in Ypsilanti, MI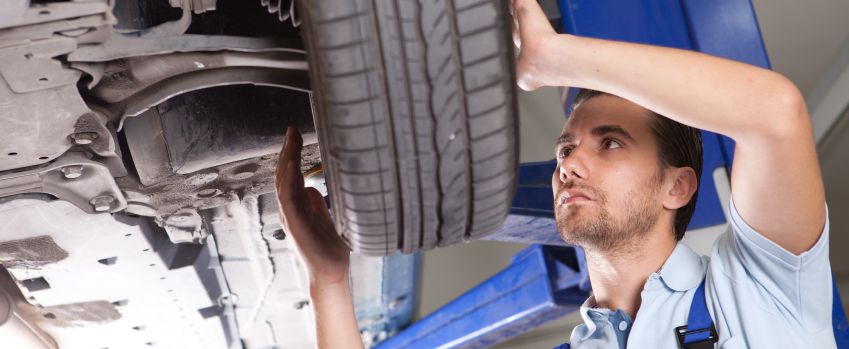 Keeping a close eye on your brake performance is one of the most important things you can do for your vehicle. While brakes that have worn down too much can result in serious problems, the good news is that it's easy to stay on top of this important maintenance. That's especially true at Fischer Honda, where our capable staff is always standing by to perform whatever service you may need! Read on to learn more about us and how you can ensure the continuing health of your brakes.
Brake Inspection Timeline
Before digging into the warning signs of brake deterioration, it's important to explain the generally accepted timeline for monitoring these important components of your car. In general, brakes have a lifespan of anywhere between 25,000 to 75,000 miles. As you can tell, that's not a particularly precise range, which means it can be dangerous to put off examining them until they could be on their last legs. Instead, most manufacturers recommend having them looked at every 12,000 miles or so. When one of our trained professionals does so, they'll be able to see how your brakes are holding up, factoring in the local climate, your driving demands, and your particular vehicle model.
Do I Need to Get My Brakes Replaced?
If it's been more than 12,000 miles since your brakes were last inspected, you may have noticed some warning signs that they're nearing the end of their lifespan. First, consider how they feel under your foot — do they lack resistance, seem squishy, or even go all the way to the floor? These are all indicators that your brakes have worn down to concerning levels. You'll also want to keep your ears open, because a scraping or grinding noise when you're slowing down indicates that the brake pads have eroded to almost nothing, resulting in metal-on-metal contact. In addition to this being dangerous, it may also be causing damage that will cost you more and more money as time goes on. If you recognize any of the symptoms above, don't hesitate to bring your car in to see us!
Our Service Department
There's no reason to feel stressed or guilty about missing an important maintenance benchmark. At Fischer Honda, we understand how busy life can get and that servicing your vehicle doesn't always make the top tier of your to-do list! All you need to do is pull into our garage and we'll take it from there. Choose what time you'd like to visit our Service Department with our convenient online appointment scheduling, but before you leave the house, definitely take a look at our current service special coupons! You'll find them underneath the "Service" tab of our website, offering a wide range of discounts that will keep some cash in your wallet.
We hope we've answered any questions you might have about Honda brake repair and replacement in Ypsilanti, MI. If you're curious about anything else, please feel free to contact us. Otherwise, we look forward to seeing you at Fischer Honda!

Sales Hours
734-646-6421
| | |
| --- | --- |
| Monday | 9:00 am - 8:00 pm |
| Tuesday | 9:00 am - 6:00 pm |
| Wednesday | 9:00 am - 6:00 pm |
| Thursday | 9:00 am - 8:00 pm |
| Friday | 9:00 am - 6:00 pm |
| Saturday | 10:00 am - 5:00 pm |
| Sunday | Closed |
Testimonials
GOOGLE
6-17-2020
GOOGLE
6-12-2020
GOOGLE
6-4-2020
GOOGLE
5-17-2020
YAHOO
5-9-2020
YELP
5-9-2020
GOOGLE
3-18-2020
GOOGLE
3-13-2020
GOOGLE
2-25-2020
GOOGLE
2-25-2020
GOOGLE
2-22-2020
"Always Fantastic"
DEALERRATER
1-21-2020
GOOGLE
1-21-2020
GOOGLE
1-11-2020
GOOGLE
1-4-2020
GOOGLE
1-4-2020
GOOGLE
1-3-2020
GOOGLE
1-3-2020
GOOGLE
1-1-2020
"Great Service"
DEALERRATER
12-31-2019
GOOGLE
12-31-2019
GOOGLE
12-31-2019
GOOGLE
12-28-2019
"Great service. "
DEALERRATER
12-27-2019
GOOGLE
12-27-2019
GOOGLE
12-23-2019
GOOGLE
12-22-2019
GOOGLE
12-22-2019
GOOGLE
12-22-2019
"Did an excellent job fixing vehicle. Only thing that went..."
DEALERRATER
12-20-2019
GOOGLE
12-20-2019
GOOGLE
12-18-2019
Read More